Youth Exchange Program
Carmel Rotarians Get Involved
Become a part of the ever-growing number of Rotarians who send thousands of young people each year to new and unusual places for the experience of a lifetime. Exposure to new cultures and ways of life can foster a better understanding between people from different lands. That understanding can be the foundation on which lasting peace and harmony can someday rest.
Youth Exchange Chair: Jason Randlett

Youth Exchange Counselor: Sue Westermeier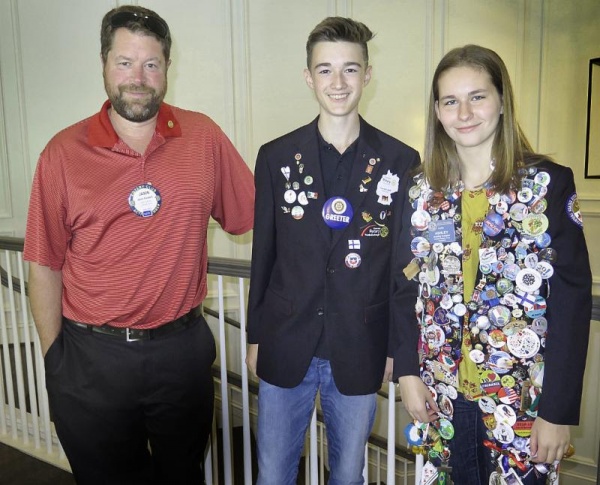 ---
History of Rotary Youth Exchange
Since 1927, students and host families all over the world have had their horizons broadened and their lives enriched by the generosity of Rotary's Youth Exchange program. Administered by Rotary clubs, districts and multi-district groups, the program today involves more than 82 countries and over 8,000 students each year.
The first documented exchanges date back to 1927, when the Rotary Club of Nice, France, initiated exchanges with European students. Exchanges between clubs in California, USA, and Latin American countries began in 1939, and exchange activities spread to the eastern United States in 1958. In 1972, the RI Board of Directors agreed to recommend Youth Exchange to clubs worldwide as a worthwhile international activity that promotes global peace and understanding.
---
Inbound Students
Before Inbound Students can come to Carmel, we must have Host Families.
How to become a Host Family
Host families complete an application, provide three references and agree to a background check similar to that conducted if you volunteer to help at any of the Carmel schools. Host families are required to attend an orientation usually held locally before students arrive. Rotary provides orientation and ongoing meetings for the students throughout their year. Students (both those coming into the country and ours leaving to live in another country) complete an application, provide references and go through a competitive interview process with Rotarians.
What do Host Families do?
A Host Family welcomes the Rotary Exchange Student into their home and more importantly into their family. A Host Family not only introduces the student to our Midwestern US culture but more importantly into the traditions of their individual family. Students attend Carmel High School and arrive in time for the beginning of school in August. The Rotary Exchange program is one if not the only program that the US State Department permits the student to stay with 3 different host families. Most other programs require the student to remain with one family the entire year. Our host families typically host for 4 months. For example, the first host family would have the student from the beginning of school through Thanksgiving; second family would host through March and the final family would have the student from April through mid-July. This is somewhat flexible depending on the families and their needs.
What support is provided by the Rotary Club
The Carmel Rotary Club provides a counselor and the Youth Exchange Officer (YEO) to assist the family and the student and act as a liaison with the school and the Rotary Club. We give the student $100 per month allowance and a limited-use cell phone. We pay for the student's books and class fees. Since Carmel High School treats all exchange students as seniors regardless of their age, we pay for their cap & gown fees. We ask the host families treat the student as they would their own child in terms of food, chores, house rules, etc. The ideal would be for the student to have their own bedroom but they could share a room with another child of the same sex.
---
Outbound Students
As a Rotary Youth Exchange student, you will spend a year living with a host family in a country other than your own. You may learn a new language; you will learn a new way of living and a great deal about yourself. But there's more. While you are busy learning, the people you meet will be learning as well — about your country, culture, and ideas, you will be an ambassador of the US and of Rotary. You will be helping to bring the world closer together, and you'll be making good friends in the process. If you are ready for the challenge and the rewards of living in another land as an exchange student, then you are ready to discover new worlds through the Rotary Youth Exchange.
Eligibility
If you are a high school student between the ages of 15 and 19, then you are eligible for Rotary Youth Exchange. As the oldest exchange program of its kind, Rotary Youth Exchange takes pride in choosing students who are academically above average, articulate, and demonstrate leadership in their communities. Ideal candidates should also possess qualities — like flexibility and a willingness to try new things — that will enable them to become excellent cultural ambassadors. You do not have to be involved with Rotary in any way in order to apply, although children of Rotarians are more than welcome to participate.
How to Apply
If you are interested in becoming a Rotary Youth Exchange student contact Rotary Youth Exchange Officer Jason Randlett or any Carmel Rotarian. There will be an application to complete. The selection process is competitive. After you have completed the application form, the District 6560 Chairperson will conduct an interview with you and your parents.
When to Apply
As the Rotary Youth Exchange program is highly selective, you should apply early — up to a year in advance of when you wish to leave. For example, if you wish to travel abroad during your junior year, you should apply in September of your sophomore year.
If you are wondering why it is necessary to apply so early, once you are selected, Carmel Rotary Club and District 6560 will work to prepare you for your year away. You will be guided through a series of orientation sessions so you'll be ready for your new life in a new country.
Costs
Rotary Youth Exchange is one of the least expensive international exchange programs open to high school-aged students. Because volunteers in Rotary clubs and districts administer the Rotary Youth Exchange program, you will not have to pay fees to an agency to arrange an exchange.
In the Rotary Program, you and your parents or guardians are responsible for:
Round-trip airfare to your host country

Health and accident insurance

All travel documents, such as passports and visas

Clothing and spending money

An emergency fund for your use during the year
Room and board while you are away will be provided by your host families, and your host Rotary club will finance the tuition for required academic programs. Also, your host Rotary club will provide you with a modest monthly allowance. If you need assistance with these expenses, please mention this when you apply.